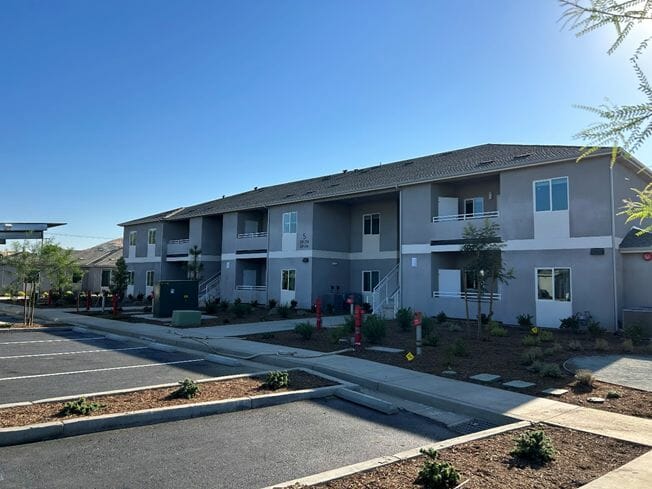 Porterville, CA – August 24, 2023
Chelsea Investment Corporation, City of Porterville Mayor Martha A. Flores, and City of Porterville Councilmembers join civic and community leaders to celebrate the grand opening of Carolita, a $21 million, 68-unit, Affordable Housing community for low-income families. Along with providing affordable housing, Carolita is also going to designate eight (8) of the units as housing for families who have members with intellectual or developmental disabilities. Carolita is located at 1055 W. Pioneer Avenue, Porterville, California.  
"One of the most basic human needs is a place to call home - an affordable home for working families in Porterville," said Mayor Martha A. Flores. "Carolita is a great new addition to Porterville, and its residents. The extra support they will receive at Carolita will give them more opportunities to succeed in everyday life." 
Chelsea Investment Corporation's financial partners are Banner Bank, which provided both construction and permanent financing, and the Tax Credit Equity Investment, which was provided by Boston Financial Investment Management. The affordable housing development was financed through a collaboration of financing sources, including $800K in Community Resource Development Plan (CRDP) funds, federal tax credits specifically set aside for disaster areas administered by the California Tax Credit Allocation Committee (CTCAC), California State Treasurer Fiona Ma chairs CTCAC and the California Debt Limit Allocation Committee (CDLAC) – two agencies responsible for awarding highly competitive affordable housing financing resources.  
"The Carolita housing community is exactly the type of development that California needs in order to build bridges to provide more people better access to affordable housing," Treasurer Ma said, "I congratulate all the partners involved, including the members and staff at CTCAC and CDLAC for their collaboration on this project to create permanent homes for low-income families in the Porterville area. Projects like these can make a tremendous impact in the community beyond ensuring 68 families will have access to beautiful, affordable housing."  
The community of Carolita includes five (5), two-story, garden-style residential buildings, one (1), 2,000 square-foot community building, and 113 parking spaces. Solar energy will be used to offset electricity usage by the community spaces and the residents.  
"The heart and soul of our company is not just building affordable housing, but changing lives," said Charles Schmid, CEO of Chelsea Investment Corporation. "We are creating opportunities for families to improve their lives and we are here today because of the leadership of Mayor Flores and the Porterville City Council. It is because of that leadership that sixty-eight (68) Porterville families will have an affordable place to live, with supportive services available to them."  
Eight (8) of the units are set aside for households with a family member who has an intellectual or developmental disability (IDD). Chelsea's supportive housing partner for IDD units is the Central Valley Regional Center (CVRC) whose mission is to serve and empower persons with disabilities and their families to achieve their goals with community partners. "People with intellectual disabilities deserve to live productive and satisfying lives as valued members of their communities," said CVRC Director of Community Services Aaron Olson.  
The architect is RPM Architecture, and the general contractor is Emmerson Construction, Inc., a long-time affiliate of Chelsea Investment Corporation.  
Chelsea's non-profit partner, Pacific Southwest Community Development Corporation will offer adult educational and skill building classes which include, computer literacy, English as a Second Language (ESL), art classes, job counseling, financial literacy, health and wellness workshops and a food distribution program. During the school year, after-school tutoring and homework help classes will be offered. These classes and workshops will be provided on-site at no charge to the residents.  
For any questions, please contact, Myrna Marston, MPR+Strategic Communications, at (619) 733-9291, or at myrna@marstonmpr.com